Choose a hotel with a spa in the mountains: melt with pleasure, strengthen your health
Anyone who has ever stayed in a hotel with a spa in the mountains has experienced paradise. And is dying to get back there. Between fresh days full of oxygen and relaxing evenings in the heat of a spa, the body regenerates. And the morale too. So this winter and summer, book your hotel with spa for a stay under the sign of pure pleasure and health.
A hotel with spa in the mountains: pure pleasure
A hotel in Tignes with spa Skiing down the slopes with your face to the wind, soaking up the breathtaking scenery, hiking and exercising. In the evening return to the hotel and go straight to the spa, without taking the car. Relax in the bubbles of a jacuzzi, melt in the heat of a hammam, take a few dips in front of the snow-capped mountains. Get dressed up for an evening with friends, lovers, at the restaurant or by the fire. What else ?
In Tignes, you can choose between theHotel Village Montana, its Nordic swimming pool with a view of the slopes and its herbal tea area. Its spa and oriental hammam and custom-made body and face treatments with spices, aromatic herbs and chocolate scents provided by professionals. You can privatize the spa at night. At Levanna, you'll have access to the same amenities, as well as the hotel's own spa, which will open this winter. The program includes a jacuzzi, hammam and sauna in a zen and subdued atmosphere. It's decided this winter as this summer, you will not deprive yourself!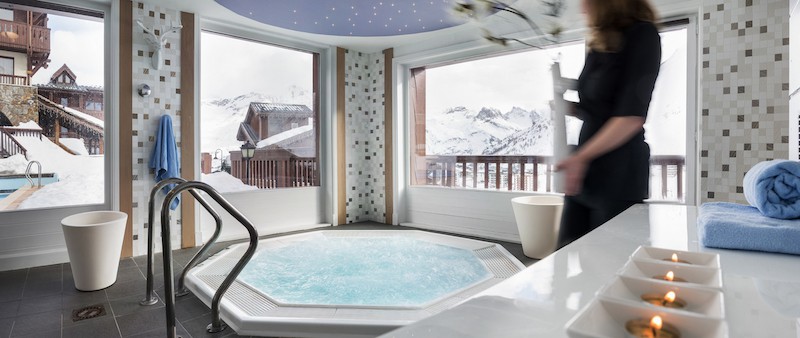 A boosted immune system
A hotel in Tignes with a mountain spa and a SPA, this is the winning combo to restore your health and boost your immune system. Between pure air, altitude and the benefits of the spa, a stay in the mountains offers much more than a vacation.
In summer as in winter, the mountain lends itself to physical and oxygenating activities. Whether we are skiing or hiking, rafting or snowshoeing, our bodies are being strengthened and regenerated. At the end of the day, after a good workout, we complete the benefits in a hotel with spa.
The bubbles of the jacuzzi relax and tone. The heat of the sauna or hammam relaxes muscles and tensions. Clear the airways and strengthen them. The steam of the hammam and the scrubbing make the skin smooth and soft. Add to that the vitamin D from the winter sun, the invigorating fresh air that reduces stress (two natural antidepressants). A regenerating night in a comfortable hotel room. The result is an unbeatable cocktail for the body and mind!
If you would like to know more about our hotels with spas in the mountains, contact one of our consultants!
Not yet converted to spring skiing in Tignes? Softer snow, milder temperatures and clear slopes: spring is the perfect season for relaxed skiing.