Selection of rentals for your ski vacations
Our selection of ski vacation rentals with the services of a high-end hotel residence.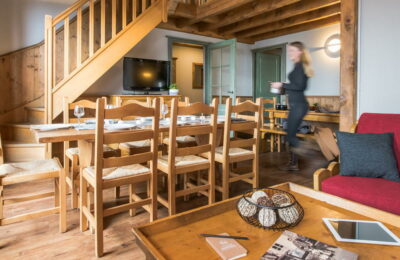 Are you looking to spend your vacations with family or friends while keeping the feeling of a home in the mountains and privileging convivial moments, in total independence? The residences in our selection allow you to enjoy the mountains at your own pace with attentive service and options to make your stay easier if you wish.
With ideal locations and a beautiful view of the slopes, the mountain and the remarkable panoramas of the resorts, the apartments in our selection are spacious, nicely decorated and well-equipped to allow you to take full advantage of your time with family or friends, with dedicated areas (children's rooms, parents' rooms, living room) to optimize your moments of conviviality and rest.
Private lockers for your ski equipment, multiple optional services, such as breakfast, grocery delivery, spa or half-board packages, concierge service, housekeeping, luggage storage and reservations for ski passes, equipment and transfers…the residences chosen offer many advantages of hotel services while guaranteeing you perfect autonomy in your cocoon in the high mountains